Air Rifle and Pistol Shooting
For all the latest news and information please go to our new website Go Wild At The Warren
---
Extreme Power!
So you think you've seen it all! You think air rifles are just little toys compared to live fire guns? well you're in for a nice surprise.
This is the ultimate in high powered air rifles and have to be tried to be believed. We need special pellets to take the power of theses rifles. Our Extreme shooting range has some amazing targets just waiting for you to hit.
You'l be taught how to shoot these amazing rifles by an expert. Firing from a seated position, taking aim through some awesome telescopic sights, squeezing the trigger as you wait in eager anticipation for that mega rifle to go off and hit your target.
If you've already done the 'Special Weapons' experience and think there can't be more!…..well here it is! 'The Extreme shooting' experience. Book yours now!
Duration approximately 1 hour.
Exclusive in the UK — RPG & 60mm M57 Mortar
As far as we know, there's nowhere else in the UK you can experience firing a real Russian RPG 7 or the 60mm M57 Mortar simulation!
We sell out of RPG & Mortar spots very quickly as these can be attached to other bookings in the mornings and afternoons. If you want to try this, please don't wait around!
Now heated for comfort all year round!
Quite simply: a unique, great fun, safe Air Rifle, pistol and special weapons shooting in a beautiful forest setting for anyone aged 10 years and over.
We're based in East Sussex and if you're looking for a fantastic unique shooting experience then you've come to the right place.
We offer shooting from standard Air rifles to Special weapons experiences and practical shooting, and cater for just one person through to large groups.
You can purchase experiences and gift vouchers through our online shop. And we only an hours drive from London.
Air rifle, Air pistol shooting range
Firing positions are from a dry comfortable shooting shelter and mixed targets are set out at various positions.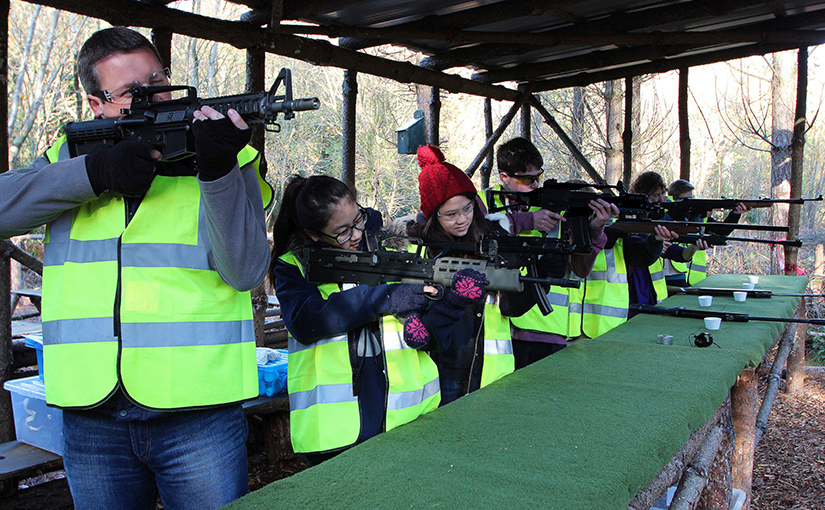 With qualified range officers present at all times, safety glasses and utmost safety in place, we make it safe for everyone from the age of 10 years upwards to come and have a go at this great fun day.
We can now offer a great day or days of shooting and or combined with archery and much more.